Posts Tagged 'weapons'
Wednesday, May 31st, 2017
Friday, September 6th, 2013
Here it is, just announced by the Commonwealth Club: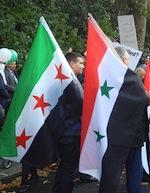 Tue, Sep 10 2013 – 6:00pm
Zubair Jandali, Member, Northern California Chapter, Syrian American Council; Head of Mobile App Developer Sales, Google; Graduate, UC Berkeley, B.S., Business Administration
Fred Lawson, Ph.D., Chair, Government Department, Mills College
Tareq Al Samman, Graphic Artist/Web Designer; Syrian activist
Kori Schake, Research Fellow, Hoover Institution, Stanford University; Former Policy Expert, the Pentagon, U.S. State Department and National Security Council; Former Distinguished Chair in International Security Studies, West Point
Keith David Watenpaugh, Ph.D., Associate Professor of Modern Islam, Human Rights and Peace, and Director, Human Rights Initiative, UC Davis
Robert Rosenthal, Executive Director, Center for Investigative Reporting
The crisis in Syria has created global tension since the recent poison gas attack that killed some 1,400 people. How should the United States and other world leaders respond? Should the U.S. Congress grant President Obama "limited" authority to launch a military strike on Syria? Would a limited military intervention be effective or would it cause more problems than it solves? What would military intervention look like? Cruise missiles? Drones? What are the targets and what is the goal if not regime change? Would it deter Syrian President Bashar al-Assad from more attacks on civilians – or provoke him to launch more attacks? Would it trigger regional havoc in the Middle East possibly involving Iran, Israel, Lebanon and others? What are the repercussions if the U.S. does not strike? How might diplomacy and negotiation work to bring peace to the region?
Our panel of experts will address these questions in a FREE Town Hall Meeting.
Location: SF Club Office,595 Market Street, SF, CA
Time: 5:30 p.m. check-in, 6 p.m. program
Price: FREE
Also know: Photo by AslanMedia/Flickr. Program is In association with Middle East Member-Led Forum. Special thanks to Celia Menczel.
Thursday, July 29th, 2010
As stated, don't mess with the crew over at SFBikeLawyer. Why? Well, 'cause some of them are self-proclaimed  "Bike Warriors," loaded for bear. [See comments.]
Here's a bicycle battleaxe. And here's part of a vignette: 
"And the second the words were out of my mouth I knew that he was going to attack me.." 
And here's a discussion on how to carry knives and how to use an improvised padlock bolo weapon. O.K. then.
What's next, full-on chocolate chip battle rattle avec AR-15?
Fiat Justitia.